With the arrival of "ber" months, many Filipinos have begun planning out their 2023 Christmas motifs. The classic green and red palette is nowhere near being done and gone, but many are looking to venture into the world of Christmas decorating with a more adventurous sense of style. Not to say the classic Santa Claus and reindeer-centered deco design is not as exciting as it used to be during our childhood, but current Christmas trends are becoming more and more interesting to the Filipino crowd. 
September is ending and December is starting to creep in closer. For those looking to have their Christmas decorations up and displayed for the majority of the "ber" months, planning ahead and staying on top of the latest trends may be helpful in getting some inspiration for their home's 2023 Christmas display. In this article, we will showcase 8 international Christmas Holiday Trends that can be adopted with a Filipino twist.
1. Earth Tones
According to jollyfestive.com, ornaments in rust, terracotta, and brown are the top shades to add to your Christmas color palette this year. These colors give off a sense of woodland aesthetic that remains one of the hottest Christmas trends for many years, and jollyfestive.com claims that it will remain one of the most popular styles in 2023.

Image from Nordic Design
Earthy Tones With A Filipino Twist
Of course, the common imagery of woodland aesthetics will pose some challenges to Filipinos seeing that the basic woodland style focuses more on the visuals of the West, but Filipinos have the option of looking into local aesthetics and designs. Our classic wooden furniture can be incorporated into the design, and figurines of our own woodland creatures like the classic tarsier or a spotted deer can add a more comfortable and familiar touch to our Christmas display.
2. Fairy Floss
Not everybody is brave enough to add some pastel colors to their usual Christmas décor, and it takes complete dedication to pull this design off. Thankfully, with the right approach, the fairy floss style is definitely a worthwhile try that can catch the hearts and attention of your titos and titas this Christmas season. According to granitebeltchristmasfarm.com, the secret is to add ornaments that look good enough to eat–like candy!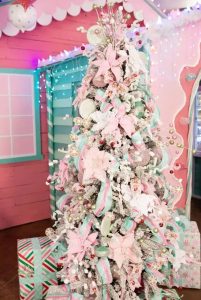 Image from Shelterness
Fairy Floss With A Filipino Twist
Incorporate decorations that mirror the vibrant colors of kakanin (traditional rice cakes) and candied fruits. Hang ornaments in shades of pastel purple, pink, and green to evoke the spirit of Christmas desserts like bibingka and puto bumbong. And yes, those advent lanterns will definitely be a great fit into this fairy floss aesthetic.
3. Paper Decorations
Another addition by jollyfestive.com, paper decorations are included in the list of 2023 Christmas trends to adopt into your home. Paper is sustainable and versatile and with the right color palette, these decorations are one of the best alternatives to plastic decors that can deteriorate so easily–especially those annoying Christmas balls covered with flimsy glitter!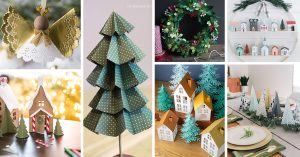 Image from HomeBNC
Paper Decoration With A Filipino Twist 
It might not have crossed your mind the first time, but paper decorations are actually already a thing in the Philippines. Those classic paper parols stand as a symbol of hope and light during the holiday season in the Philippines, and adding them to your roster of trendy Christmas decorations will surely ignite a feeling of calm and comfort inside your home. You can also craft paper mâché ornaments in the shape of traditional Filipino fruits like lanzones or santol to add a unique touch to your Christmas tree this year.
4. Alternative Christmas Trees
For the adventurous, this trend is something to really consider. Alternatives to the traditional Christmas tree are on the rise this year, especially with the resurgence in popularity of Avant-Garde items in home styling this 2023. For those looking for something a little different this year, out with the green pine tree and in with whatever tall and shrubby thing you can place inside your living room and hang Christmas balls in.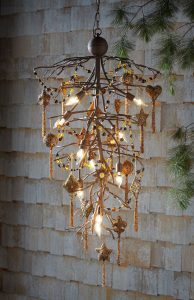 Image from Pinterest
Alternative Christmas Trees With A Filipino Twist
For a unique twist, hang suspended horizontal wreaths above the dining table, adorned with ornaments that reflect Filipino holiday traditions. This not only adds a touch of drama to your Christmas display, but the design also conserves valuable floor space while bringing the focus towards the table, where the Filipino family gathers to share noche buena.
5. Snowy Christmas
Sometimes, it is nice to try something a little different from normal. While we don't see (and hope!) that the Philippines will be experiencing any meteorological anomaly and see a snowstorm soon, a snowy Christmas is definitely a Christmas motif to try this holiday season.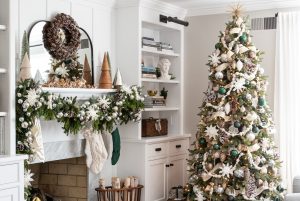 Image from Inspired by Charm
Snowy Christmas With A Filipino Twist
To infuse Filipino homes with this enchanting snowy landscape trend, consider incorporating local fauna and folklore-inspired elements. Hang deer, owls, and squirrels alongside traditional Filipino parol lanterns for a fusion of nature and culture.
A Filipino Christmas To Remember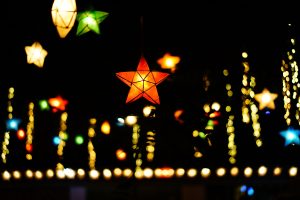 Image from House Beautiful
There's no need to emphasize just how important the Christmas season is here in the Philippines. Seeing as it lasts for more than just one day but throughout a couple of months, getting your Christmas decorations prepared can bring you a very festive four months until the New Year celebrations. Pick and play with some ideas included in this list and create your own Filipino Christmas wonderland this holiday season!
References
Granite Belt Christmas Farm. (n.d.).

The top trends for Christmas 2023

. Granite Belt Christmas Farm. Retrieved September 28, 2023, from https://granitebeltchristmasfarm.com.au/christmas-decorating-trends-for-2023/

Jolly Festive. (2023, June 25).

Unveiling The 23 Must-Have Christmas Trends For 2023

. Jolly Festive. Retrieved September 28, 2023, from https://jollyfestive.com/christmas-trends/