Concrete roof tiles are some of the most common materials used for roofing. Because of their longevity, durability, and variety, construction professionals mostly prefer this material- especially in places with frequent rainfall. While other materials may suit the Philippines better, there are a lot of houses built with concrete roof tiles you can find across the country.
If you're renovating or building your home, odds are, your contractor might have approached you with a variety of materials to consider. Should you find yourself undecided in which material to use for roofing, let this article help you by listing out a few pros and cons you ought to know before choosing concrete roof tiles for your construction or renovation project.
Pros of Choosing Concrete Roof Tiles
Concrete roof tiles are best known for their versatility – hence why it's most commonly used for roofing. They last for a long time and come in a variety of designs, colors, and shapes.
To give you more insight, here are a couple of pros or advantages to using concrete roof tiles as your roofing materials:
Eco-friendly
While they aren't biodegradable, the materials and components used to make concrete roof tiles don't need to go through environmentally damaging factory production. Apart from that, concrete is usually constructed from natural materials such as water, sand, gravel, and cement.
Durability & Low Maintenance
Most concrete roof tiles can last for over 50 years. Concrete roof tiles are usually tough and difficult to damage. Hence, you won't need to do heavy repairs. The concrete roof tiles will last you a long time and you don't have to worry about maintenance along the way. At most, you will only have to do regular cleaning to eliminate any moss or gunk that has accumulated, but apart from that, you're set for the next couple of decades.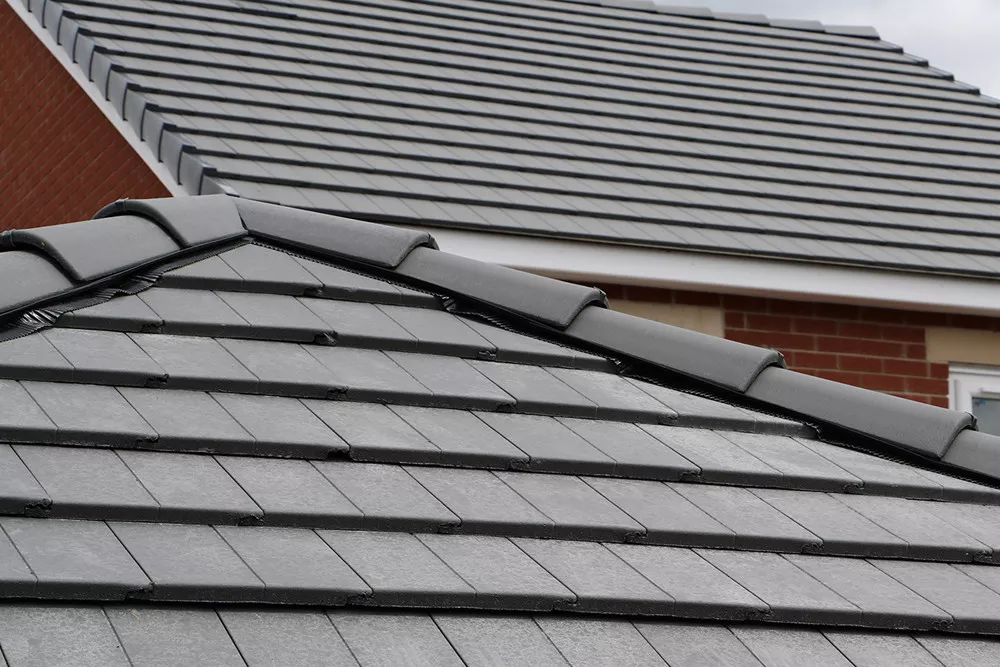 Versatility
Concrete roof tiles are one of the most versatile roofing materials on the market. You'll find them in a variety of designs, shapes, and colors – making it ideal to create homes with appealing designs and multi-colored patterns. You can also make concrete roof tiles look like other materials, including wood, slate, and shingle, to give the same look but with the durability of concrete.
Cost-Effective
Concrete roof tiles are more affordable than other materials. You'll have more room to play with designs or invest them into other elements of the house that you want to build or renovate. You'll also get to buy more than enough for backup in case something goes wrong with construction or renovation.
Fire Resistant
If you're looking for a material that has strong fire resistance, concrete roof tiles are the best ones to consider. They reduce the damage caused by the fire and protect the home from falling ash or embers.
Cons of Choosing Concrete Roof Tiles
While there are many advantages of using concrete roof tiles for your home, it also comes with a couple of disadvantages that you might want to consider – especially if you're building a house.
With that, here are a couple of cons to using concrete roof tiles for your homes:
Prone to Weathering
Concrete roof tiles are prone to weathering, and large amounts of rain can affect durability. Concrete roofing tiles can absorb water, leading to a variety of problems including stains, mildew, and moss.
Difficult Installation
Concrete roof tiles, like other roofing materials, require the expertise of a construction professional to install them. It requires the help of roofers to install them correctly. This material also usually needs to be layered in a specific pattern to achieve an aesthetic look – you won't be able to DIY the installation of concrete roof tiles.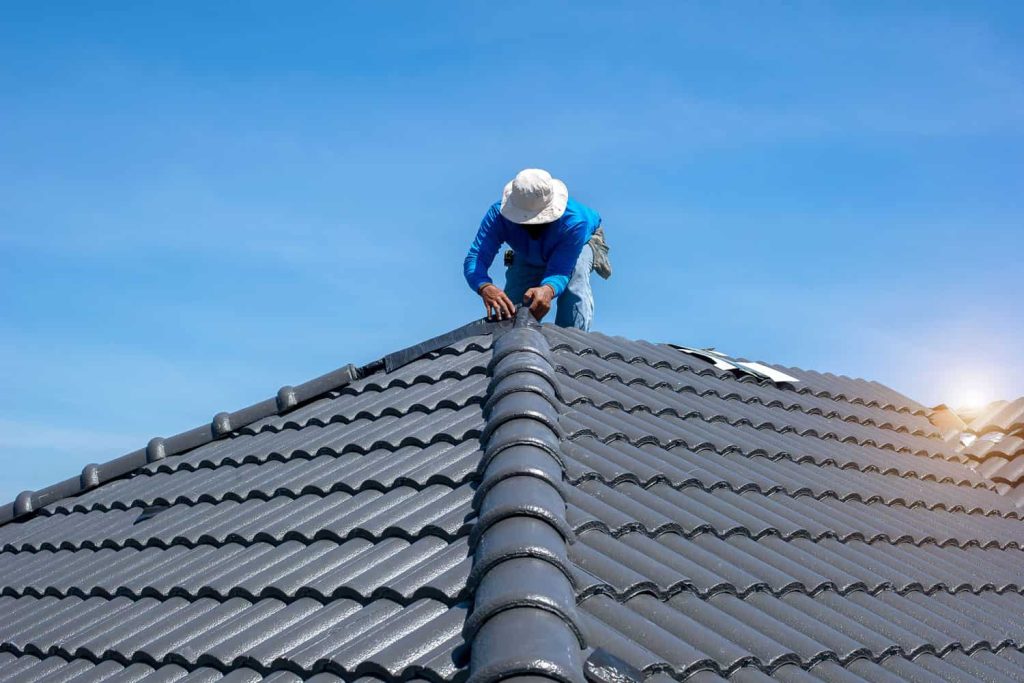 Weight
You might need more effort and staff to build using concrete roof tiles. They're heavier than other materials (e.g. wood and ceramic), meaning you'll need more hands to install or remove them if needed.
Color Fading
Despite its variety of shapes, colors, and designs, concrete roof tiles are very prone to color fading, which comes with age. While this only typically occurs when adding color to the tiles' surface with a concrete-based pigment, it's still worth knowing so you can consult with your project manager or contractor and avoid it.
It's always best to seek professional advice when choosing materials for your renovation or construction project. Ask your project manager or contractor whether concrete roof tiles are ideal for the design, aesthetic, and overall foundation of your house before choosing it as your roofing material. Bear in mind that while concrete roof tiles are durable, they are susceptible to weathering which might not make them ideal for areas in the Philippines that experience frequent changes in weather.
Apart from that, it's an excellent material to use when building or renovating to ease the long-term burden of repairs and maintenance. It also won't break the bank because of its affordability.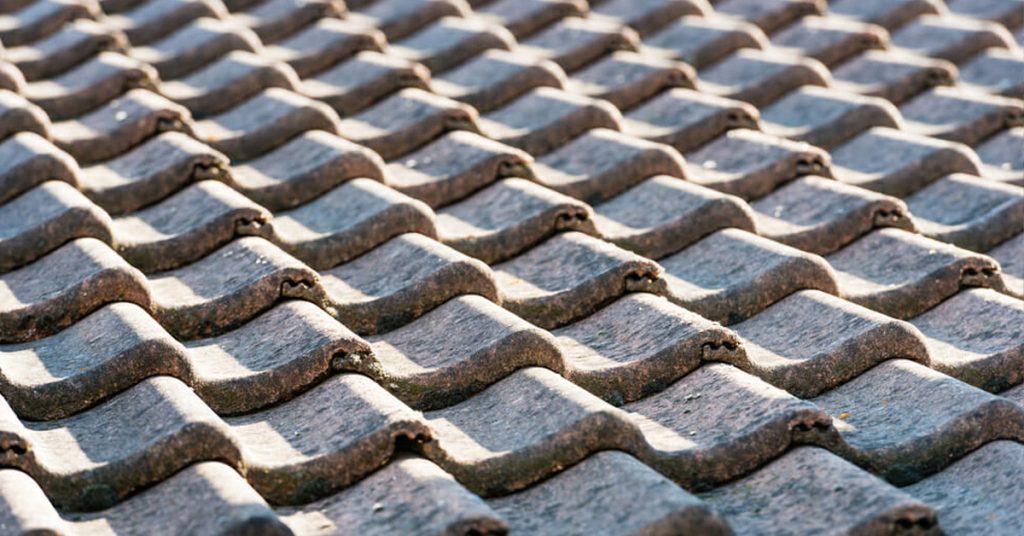 Sources:
Wisniewski, J. (2020, November 16). Concrete Roof Tiles: 10 Pros and Cons. Fixr.com. https://www.fixr.com/resources/pros-and-cons-of-concrete-tiles#pros-of-concrete-roof-tiles
Hippie, R. (n.d.). 16 Pros & Cons | Concrete Tile Roof. Roof Hippie. https://roofhippie.com/16-pros-cons-concrete-roofing-tiles/
Rivers, E. (2017, July 17). The Advantages and Disadvantages of Concrete Roof Tiles – Quotatis | Roofing Advice. Quotatis | Roofing Advice. https://roofing.quotatis.co.uk/advantages-disadvantages-concrete-roof-tiles/
Pros and Cons Concrete Roof Tiles (Things U Should Know!). (2021, July 7). Www.roofcalc.com. https://www.roofcalc.com/pros-and-cons-concrete-roof-tiles/